Beagle dog
The Beagle is a breed of small to medium-sized dog. A member of the Hound Group, it is similar in appearance to the Foxhound but smaller, with shorter legs and longer, softer ears. Beagles are scent hounds, developed primarily for tracking hare, rabbit, and other game.
From medieval times, beagle was used as a generic description for the smaller hounds, though these dogs differed considerably from the modern breed. Miniature breeds of beagle-type dogs were known from the times of Edward II and Henry VII, who both had packs of Glove Beagles, so named since they were small enough to fit on a glove, and Queen Elizabeth I kept a breed known as a Pocket Beagle, which stood 8 to 9 inches (20 to 23 cm) at the shoulder. Small enough to fit in a "pocket" or saddlebag, they rode along on the hunt. The larger hounds would run the prey to ground, then the hunters would release the small dogs to continue the chase through underbrush. Elizabeth I referred to the dogs as her singing beagles and often entertained guests at her royal table by letting her Pocket Beagles cavort amid their plates and cups.
Eighteenth century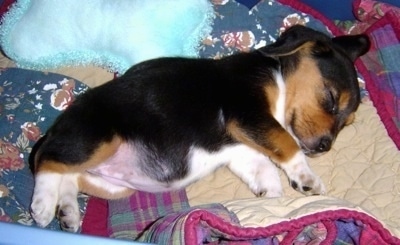 Sleeping Puppy
As in the UK, activity during World War I was minimal, but the breed showed a much stronger revival in the US when hostilities ceased.
Cute Puppy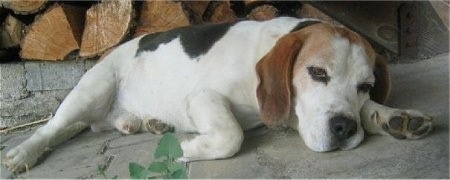 Tired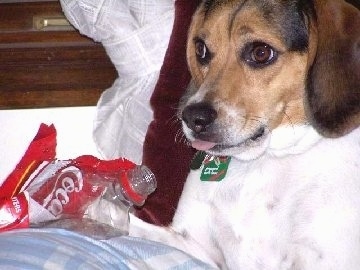 Love Cocacola
The American Kennel Club and the Canadian Kennel Club recognize two separate varieties of Beagle: the 13-inch for hounds less than 13 inches (33 cm), and the 15-inch for those between 13 and 15 inches (33 and 38 cm). The Kennel Club (UK) and FCI affiliated clubs recognize a single type, with a height of between 13 and 16 inches (33 and 41 cm).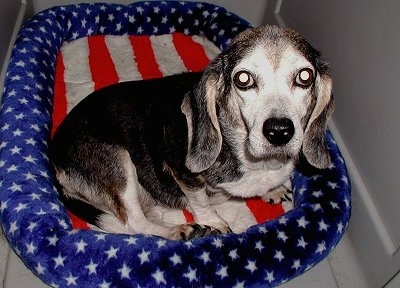 Trying to Sleep
The Beagle has an even temper and gentle disposition. Described in several breed standards as "merry", they are amiable and generally neither aggressive nor timid. They enjoy company, and although they may initially be standoffish with strangers, they are easily won over. They make poor guard dogs for this reason, although their tendency to bark or howl when confronted with the unfamiliar makes them good watch dogs. In a 1985 study conducted by Ben and Lynette Hart, the Beagle was given the highest excitability rating, along with the Yorkshire Terrier, Cairn Terrier, Miniature Schnauzer, West Highland White Terrier and Fox Terrier. Beagles are intelligent, but as a result of being bred for the long chase are single-minded and determined, which can make them hard to train.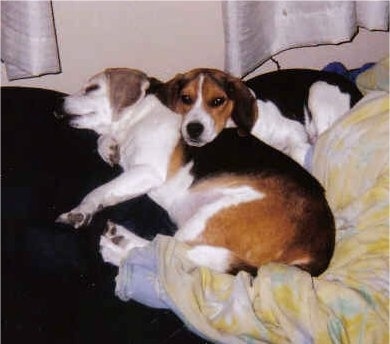 Sleeping Buddies
Beagles were developed primarily for hunting hare, an activity known as beagling. They were seen as ideal hunting companions for the elderly who could follow on horseback without exerting themselves, for young hunters who could keep up with them on ponies, and for the poorer hunters who could not afford to maintain a stable of good hunting horses. Before the advent of the fashion for foxhunting in the 19th century, hunting was an all day event where the enjoyment was derived from the chase rather than the kill. In this setting the tiny Beagle was well matched to the hare, as unlike Harriers they would not quickly finish the hunt, but because of their excellent scent-tracking skills and stamina they were almost guaranteed to eventually catch the hare. The Beagle packs would run closely together ("so close that they might be covered with a sheet") which was useful in a long hunt, as it prevented stray dogs from obscuring the trail. In thick undergrowth they were also preferred to spaniels when hunting pheasant.