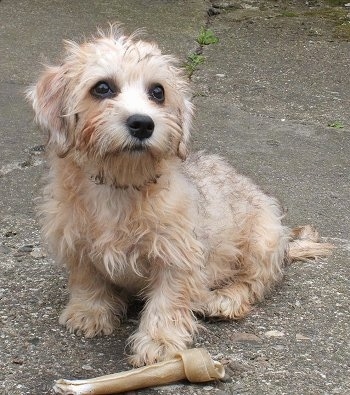 Dandie Dinmont Terrier dog
A Dandie Dinmont Terrier is a small breed of dog in the terrier family. The breed has a very long body, short legs, and a distinctive "top-knot" of hair on the head.
Description 1
Appearance
This breed has little to no shedding (see Moult).
Temperament 1
The Dandie Dinmont is affectionate and fun-loving. It makes a great companion dog. Lively, plucky, determined and willful. Independent and intelligent. Bold yet dignified. Reserved with strangers and protective of family and home. Good with all well-behaved children and babies as long as they are raised with them from puppyhood. Dominance level varies greatly. Some males can be aggressive with other male dogs in the household while females can be snappy and bad tempered
History
This short legged terrier was developed in the 17th century as an otter and badger specialist in the Cheviot and Teviotdale Hills in the border country of Scotland and England. The Dandie Dinmont Terrier is named after Dandie Dinmont, a jovial farmer in Sir Walter Scott's novel Guy Mannering. Scott also gave the names to the breed's colours, pepper and mustard, which were adopted from the names of Dandie Dinmont's dogs. The Dandie Dinmont Terrier is the only breed to be named after a character in fiction.
The first task was to draw up a breed standard and Mr William Wardlaw Reed, a founder member of the DDTC. worked on this, smoothing out the many differences. The following year at the Red Lion Hotel, Carlisle, the standard was agreed and adopted.
The breed was first registered with the American Kennel Club (AKC) in 1888. The Dandie Dinmont Terrier was recognized by the United Kennel Club (UKC) in 1918.
Today the Dandie Dinmont is amongst the rarest and most endangered of all pure breeds/pedigree dogs. The UK Kennel Club list the Dandie as one of the UK's Vulnerable Native Dog Breeds and there is a very real chance of the breed becoming extinct.
A Dandie Dinmont called Dodo features in Gerald Durrell's book: My Family and Other Animals Chapter 16.
Description 2
Temperament 2
Height, Weight
Height: 8-11 inches (20-28 cm.)
Weight: 18-24 pounds (8-11 kg.)
Health Problems
Generally a healthy breed. Some are prone to glaucoma and epilepsy. Hypothyroidism can occur when the dog is older. Do not overfeed as an overweight dog can have back problems.
Living Conditions
The Dandie Dinmont Terrier is good for apartment life. They are fairly active indoors and a small yard will do as long as you take them for daily walks. Likes to chase, be careful when taking them off the leash.
Exercise
Dandie Dinmont need to be walked daily. They will also enjoy sessions of play in the park or other safe open areas.
Life Expectancy
About 12-15 years.
Grooming
The Dandie Dinmont needs to be brushed regularly. They should have professional grooming. Dead hair should be plucked out once or twice a year. Show dogs require much more grooming. This breed sheds little to no hair.
Origin
The Dandie Dinmont is an old terrier dating back to the 1700s originating from the border area between England and Scotland. The breed may have been developed from the Skye Terrier and the now extinct Scotch Terrier (not to be confused with today's Scottish Terrier). The breed was popular among the gypsies and was used by farmers to kill vermin. With its short legs it was able to go to ground hunting badgers and otter. In 1814 Sir Walter Scott wrote about the breed in is famous novel "Guy Mannering". In the book there was a character named Dandie Dinmont, and that is where the breed got it's name. It was recognized by the AKC in 1886. Some of the Dandie Dinmont's talents are vermin catcher, hunting rabbit, otter, badger, martens, weasels, and skunks.